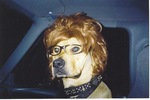 When the Trump proposal was approved, part of the deal was that it would include affordable houses for local people. This was crucial to the PR, and the local authority even gave him £5m worth of land to build them on. As the Scotsman
put it
:
"
Under current Aberdeenshire Council policy, developers are asked to provide housing for low-income families in return for being granted permission to work on major developments.
"
Now the planned homes, the affordable and the presumably unaffordable, have all been
put on hold
, or potentially even scrapped. If the overall planning permission is really dependent on the housing, as local policy demands, has that permission been withdrawn? Fat chance. If the land given was just for this purpose, has it been given back? Unlikely, to say the least. Did hard-up Aberdeenshire even put any terms on that shameless bung? I doubt it.
The Trump plan was always for hotels, chalets and golf only: the homes were just a sweetener, something to help the SSSI-destroying medicine go down, and they were only needed until formal permission was granted
less than two weeks ago
. The period between Christmas and New Year is also a great time to sneak out one's bad news and avoid Parliamentary criticism.
The only consolation is that the whole thing may now unravel, and just perhaps we could be free of his half bullying, half bribing approach to development. Scotland deserves better.