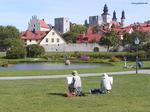 Every July since 1982 the scenic city of Visby on Gotland has held an unusual type of political conference at
Almedalen
(link in Swedish).
Rather than the usual political conferences, where all the parties retreat to their own ghettos to talk to themselves, it's a
properly cross-party
week. The event traces its history to speeches given there by Olaf Palme in 1968, incidentally.
In addition to the 1,000+ free events, the leaders of the seven parties in the Swedish Parliament each have a 30 minute speaking slot, which the other leaders sometimes go to. Just because, y'know, it might be interesting.
Working in Holyrood is less partisan than many people imagine from the outside, and there are people I like and get on with in all parties. I'm sure minority government helps that, but there's still nothing quite like this in Scotland, no place where ideas get regularly discussed between parties without a vote on them at 5pm.
Last week, while out for drinks with a couple of
other
bloggers
, we discussed whether something like this might work in Scotland, and we think it could be a goer. The initial idea is for something short and simple, perhaps including a dinner, to be held next summer: we're also short of social events with the demise (?) of the Scottish Political Journalists' Association dinner.
If that works, then we might look at a longer event in August 2011. We'll all be out of election mode and rested, and there'll certainly be a lot of interest in how the new balance of power at Holyrood works, whatever it is.
Any thoughts? Feel free to tell me it's mad. Sure, Almedalen is also a lobby-fest, which isn't exactly what any of us want to see, but would you find something like this interesting? How would you make sure it's for the public, activists and civic Scotland as well as the political classes?
Scotland's certainly spoilt for suitable venues, and in need of smarter and more open discussions about the problems that face our country. We have to draw the line somewhere, though. Talking about Almedalen, Anna Wramner
says
:
".. it's very informal, it's probably the only time each year you'll see the Prime Minister walking the streets in a swimsuit."
My eyes! They burn!