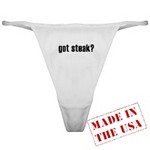 These come entirely unsubstantiated and should be taken with an enormous pinch of salt. However, all three were told to me by at least semi-plausible sources.
1. Maggie's Rump Steak.
In the 1980s a friend of mine worked in the Edinburgh restaurant favoured by the then PM when she was up visiting the northern colonies. She always ordered the same thing, the rare steak, just as one might have expected. Each time she ate there the meat received a little extra attention: a marinade in the chef's underwear until cooking time. Of such things was the resistance made.
2. Michael "Joseph" Portillo and Diane "Mary" Abbott.
I hadn't realised how far back they went, but the former This Week duo were contemporaries at the paired Harrow County Boys and Girls schools, and
both were keen on drama
. The rumour I heard was that they did a nativity play together, playing the central couple. This is the one I'm most sceptical about.
Please feel free to disprove (or prove) any of these for me.