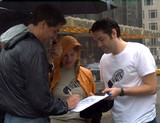 Things go from bad to worse for The Donald's would-be Scottish Empire.
Tripping Up Trump
took the battle to him, getting the eager New York public to sign petitions against his plans outside Trump Towers. They've got over
11,000 signatures online
now, plus many more on paper.
More seriously, the
P&J today reports
that Aberdeenshire Council will reject his Compulsory Purchase Orders. He's bullied people so hard that even his own former supporters have given up on him.
You can see how rattled he is, too. He rang Rob Edwards up to
swear at him
last week. He also sent out a properly bonkers statement last night (
full statement as a Word doc
) which describes his vanity project to fly Americans into a gated community as "
one of the few projects of national significance in Scotland
". Can the SNP really stomach the anti-Scottish sneer in that attitude?
In it he also claims that Martin Ford's position was "unanimously rejected by the Local Council". Sure, I remember Martin voting against himself. That definitely happened.
Presumably if he doesn't manage to force these people from their homes, which is looking almost inevitable, it's therefore all over. He could of course compromise. Similarly, the Pope might turn out to be a secret Zoroastrian, I suppose.