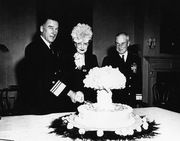 Every time you think the Lib Dems can't sink any lower, they manage it, on cuts, on electoral reform, on privatisation. Today it's energy. Here's
Chris Huhne from 2007
:
"Ministers must stop the side-show of new nuclear power stations now. Nuclear is a tried, tested and failed technology and the Government must stop putting time, effort and subsidies into reviving this outdated industry.
"The nuclear industry's key skill over the past half-century has not been generating electricity, but extracting lashings of taxpayers' money."
Since then, of course, he and his colleagues have gotten into bed with the Tories (pictured), and we know the Lib Dems accepted nuclear as an area they'd lose out on. As the responsible Minister, it would be perfectly reasonable for him to say:
"Everyone knows our party's position on this issue, but it's a coalition, a compromise, and the Government's policy is supportive of nuclear power."
I wouldn't do it - opposition to another generation of nuclear plants was our only red line issue for any coalition talks after the 2007 election - but it would be understandable.
Mr Huhne, seen as anti-nuclear power in the past, said his previous position had been misunderstood and he had merely pointed out there had been no private investment since the Three Mile Island accident in the US in 1979.
Disgraceful and dishonest.