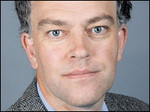 Four months after he
resigned from the Liberal Democrats
, and a bit more than eighteen months after
his casting vote
saw Donald Trump's daft golf scheme temporarily hit the rough, Martin Ford has joined the Greens.
Here's his statement in full, released today:
"
I believe we need a more liberal and democratic society, one where power and wealth are more equally shared.
"
Fairer distribution implies a reduction in the use of natural resources and waste generation to sustainable levels, so future generations are not unfairly penalised. We have to recognise that there are absolute limits to the planet's capacity to cope with human activity. Creating a society that respects planetary limits - for example, by reducing greenhouse gas emissions - is the biggest challenge we face.
"
I have been involved in politics for most of my adult life. I got involved in order to further the liberal, democratic and environmental ideals I believe in. I have stood for election and been elected to Aberdeenshire Council three times on a commitment to support those ideals on the Council.
"
After a period in which I have not been a member of any political party, I am joining the Scottish Green Party to further those same liberal, democratic and environmental principles
.
"
In decisions ranging from road building to airport expansion, all of the four main parties are still pursuing policies that will significantly increase greenhouse gas emissions while promising to reduce them. No wonder there is a serious problem of public trust in politicians
.
"
I have concluded that only the Green Party can be relied upon to consistently support policies that will prevent climate change emissions reaching dangerous levels. That alone is more than enough reason to join
."
A lot of people in Scotland think protecting our natural assets is more important than sucking up to Donald Trump. Plenty of people think gouging the Aberdeen Western Peripheral through rural Aberdeenshire is a crazy idea. 
Even more want real action on climate change, constructive policies to make a real difference, not more hot air. It's more clear than ever that the Tories, Labour, the Nats and the Liberal Demcrats cannot be trusted on these issues. 
I'm personally delighted that Martin's joined us. He's both calm and passionate on the issues that matter. He's an outstanding campaigner, someone who put his clear principles ahead of personal advantage. In short, he's a Green.