about blogging
In case anyone wants to know how productive blogging is, I believe this is the best summary.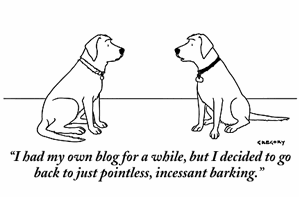 But here's
a note
on how to do it well. I do try to follow those rules, including the one about breaking the rules.
Also, here's a PGP public key associated with my work email.
-----BEGIN PGP PUBLIC KEY BLOCK-----
Version: GnuPG/MacGPG2 v2.0.12 (Darwin)
mQSuBEqSanwRDADV+xjcOTn09zfkkJh2+hqE+aCdWvvd8vE9gE10RoMqDgwPnruk
b18dsH4tGulyCFdTDv2JLcZ5vHyMryAS49G+Q3xt6k+Q2JXV8RqKcEGif2ztAaIh
v4uq4FbHedM2urQOJq/tNSlcooau6x6dWUBPBFCN+fVBOOEAxfEZjN3nhnznJ7tM
8P8GrZSfAyOe8H5ZQIoWfxkbF+nFWk9DZWD//1Y3JAddO08a3LbtGuRLwy3h66B4
S78djHTA/QmoN3QYE0dz5+/DkvX6m8l7zehu7XXod9QV+rS3Z0NryqdX7ynQwXW8
LkKKLIPHsUgfzMOZHcCtw/GkU3PeWo8/F/lIL5Z3x+/uMxL+jYFJmvGZYz1pPcnk
gga4NHRZtXMLlJZPHGlEGCQ8KpU1xHbSAKkMXRVn3oiToZC2Vx1bRzhrrpDMZSda
98ALb8QM6CNEEF/i5oVCAtavM2cozHml38quzYeTi0qlHK7JAuw7bRd5XrwZePwn
LNBb3PDoqXsKhgsBAM2VIsBTYBHA7s8DAvRDUzv9vUaGsPkDU0+dfMvk8hmtDADO
EMIfSb/Nad4KZ1cWzscWc3wXVScfgNxw/lddCmAwhQ6fLFdKnhDy7MX5m6GC1X/6
0l0yxvHMc1Kvl+Uw0dvMdgcKKf5ZI6htxeCi0/+Fv1EGJs4bJ4PuVsIJNXTrO/FW
xSm4HOh3+HGwk13sv0IeGQbXyUMoE165UPJdc1K/DJja1Tm4tn8Z9OKBvZ5HjLgP
6OduS0YnZJyYthPiJrJGOUQEX+SmEy19M3iUxs1PsU6smOra5odop2eJh0/2scnK
1D1e5RAlfdxXEe8GJ70RU1wl2wnGeBHaoAvynAV9GxIwmlrj9Nt/ponncDYzzKYv
kEFJSPn2/cHO5tj9oyyq1XE3eHdDL2PLSlKuspnAznrRaZuGrW95WHt3g8yWZ/Fg
ZF/w2IwR2Q8VRSPHPSoENTjEkeMYwduZ0OeDMqEMRVEiRMdFeezLb2W/uJSI91p5
RZOh+tseMKpnmEVDUQIFSz7nyMVNelKWqrT/TGXaEhsmLPzNeP2ES4JV8zGdPjgL
/11UYNiaEuPB5Hn3nmQ/MZCUZNg2osZf6rwMzINjeyzZQaQKJOi/u5FC4p7fVW5U
WY1O91RtZlXlT960UB0Ssn8z3WqBQyrVPzvpZuPHC+BPhEp03oBB0bkUHjWuE2Io
uEBHmRIMT8Epskn5fTSv6uRbveABhq1mHmsZMc2UuJefdncWyCIxayvNSYjpzZKu
FvlC7PcVrNvK0EDvmsYXBNty2kzjAzJrZFVKCy+36brBzSkboAQp5mQNRfDSqnZb
m0xV6QctpA6bAnzpKLNqjw6W7bNGF7H0ENF5nNf/LHcPDMppjfY+SCwq92HWd88L
pIjATlTlPM1Esfcw6Zyb1Gr8t4Pneu/MpIMKrb60SrhVOUz6xmzZSvru9DSxV5Jf
eriubRPm4rTEys+6FKyqA9ZE2wLuRkMV9csZw1Pch7MyY2Va+0jSFB7v1SNPxX2G
UPh8R9uV2qNDV9k4tIn1LQeB8jf8ctVoWCwQ6QG+PralP15YIdqz88Nwpnabzx0e
7bQ4SmFtZXMgTWFja2VuemllIDxqYW1lcy5tYWNrZW56aWVAc2NvdHRpc2gucGFy
bGlhbWVudC51az6IfgQTEQgAJgUCSpJqfAIbIwUJA8JvNAYLCQgHAwIEFQIIAwQW
AgMBAh4BAheAAAoJELIK5GEuNSSgz+EA/A2feYH0SqnN5m+5GvmYaJ2Va1vMREtU
Sv3RBfOPOa6QAQC7TJ8AVCz1pD5lqtI6JTaXRzN/I1Mssoqsvz+5trRs8LkEDQRK
kmp8EBAAo6GIVNpSUc+bgBv9R8vQajr1kIQnaQ8F1G7p8ZOy0yU0hitp+s/XesBY
kfR4hOSbFcUAgxvGp/jyf7sm9nGp2slCjiD9r2tqWiL3AFqKFCLE9xJrpbu7w1Ta
VICN19pbR0kelTzys8Wfsuqqf9WYH3GWFL8UMBukEcRNPn6PHnnot9cg9zha8zUw
oMCg/BVLJMIxbadCpbUR/fzv9ldnLBmb1+TSVWTp7dPc5TMefmP22yP8Jz0TwAK6
f0st0sEmW1uwqr1xF/KCuD75mVuuMqKAQvTNVeMPJrI1DmYzgcGqbtsDwSuPL6OV
+GgcXvwnbw1Ho/mu/ZfHpD2g0ESCXveIL9AcrWNcQZuoHjmMx5e13OdV9Va4ecDr
YjILomyq2vwPGh6tI5ZuZzUkPSxK/A27ebfG8xaKodBqJWORsBW1l2JEH5ygfKQK
MWO8uAa7VdgK4Y0wlPki169Hdxa5hobzvHmXLAtl4ufyxJroceZYc0s9bCY7RX8P
W5zhAnZ2YIsuBHmR/CwavJ6fp98PPZYV4LfpM+aSN7shbfZxx6KIt8VdPfU8ZClm
oPemHQOdV3vLnuTrKE46DhYpq4BMdFEYACrNGIgpBj9s+ddMTWg+0Bj8Uali9aUl
ZVCct2kKTwNJWOz+dbKx5pYynHDzaA164Q/KP/5UvMMr9O+r1yMAAwUP/2YC053K
VJAvLTD2FYudeSVCaTZvh+S6dX/AbTmcl+pqA5dxgQ/ozIgmK6wH4sQzAnC46EmZ
4v7Z+UK0a3GP4EQDCimmt6lcubLbDbikNhwpfz7zR29VfAjXdQWgLAD3QmbNuSZZ
N7uPd8xkbXXcpPMumNOKnl4W1IR+iSOXVryBR0MwlvwXpovWR9w37coeJNcrcf+0
vOA3kveC0Qofz82IaVIAicQe59XSwXXILuPw4vvumS7by1yUgQxN3ioOsWObDL3l
2/Wz76wzYKmlLkd3PxnLgEdGQ6tjZU5r1MpXrjdJYoHQnKuOPfrOkAOxFT+FKOwY
98hdQ0EX1cGlo8Is/IWFdR0gM9sN5x/bDTHLFwjht5vNM+XjXDh8A8OfvUeamGZr
7WvF1wE6q0YZSq9FI4AFHSmqWEmfYMnKl5L8Wk3xQrqN2osFyJXX6eaSD7iWI31l
zoBnynFMHHKI5D60hf7v7FkX/1/1FbD3iaOu+TSuo7e1aNGvqR1VNiwT7OZIs3qn
mq4++4J+dXqXTtz8fcAWIj7OSo4oZ9QwK8/jgr9Vyw+eh870L1DWJ/PfjYbZ1Vgj
k6t7iHGJGk8HZAF0wtzQBvr04i8o7kPWMm7r6w5MThmxKY7XuAfGxs2XD+8qH6tY
J6skS42VxwIQVLNm2SKK8Z1roUO/hEYZY4v9iGcEGBEIAA8FAkqSanwCGwwFCQPC
bzQACgkQsgrkYS41JKAZ5QEAu+y3Ir5sR+n95viiReXBigX6MlvPWk698BRXWn0u
cLYA/iJY/WedY6ybKVCBLpj1tq5Tp5riK9w0kwr2TYOYZf7P
=9Upn
-----END PGP PUBLIC KEY BLOCK-----