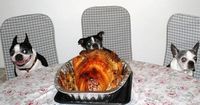 Tim Luckhurst wrote an
extraordinary piece
for the Guardian yesterday, full of praise for Iain Gray, yet I feel the new
LOLITSP
won't be pleased by it. 
He is not a "
standard-issue numpty
" like Jamieson or Kerr, Luckhurst says, backed up by the evidence that Gray had a public-school education. 
He's "
open-minded
", which is confirmed by the fact that he's been seen reading the Guardian. Surely a low bar, especially for a Labour politician?
Tim then advises the LOLITSP to call on Gordon Brown to resign, which sounds like friendly fire rather than advice intended to be helpful. I know Ministers down south are eyeing Brown up like a well-done roast (Cabinet pictured above), but the rest of us know a change of leader won't solve their problems.
Finally, he argues that Gray has to prove that "
social justice and separatism are incompatible
". So, in principle, Scotland would be incapable of achieving social justice without being part of Great Britain? That's a pure faith position, impossible to prove, not to mention counter-intuitive given how badly the status quo has failed to deliver social justice.