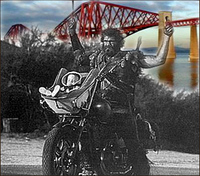 The additional Forth Road Bridge is, I believe, the clearest way yet visible that the SNP government may be brought down. 
To start with, it's totally unnecessary. They swear blind it's a replacement bridge, despite the evidence that the existing bridge will last
another 80 years
with either dehumidification (cost:
£7.8m
 -
£10.3m
) or recabling (cost:
£91m - £122m
).
Ministers are taking a serious audit risk by pretending that these solutions don't work and pressing on with the myth of bridge replacement, rather telling the truth. The truth is that this is an additional bridge, a pointless boondoggle to allow the SNP to claim they're investing in Fife's vital
marginal seats
economic interests. 
Furthermore, there's no funding arrangement in place for it. John Swinney is due to make a further announcement about this on Wednesday - apparently
it'll cost a billion less
, down to a mere £3220m, because contractors will work for peanuts in an economic downturn. That sounds worth relying on.
This absurd project is meant to be a flagship for the Scottish Futures Trust, one of the SNP's least well-considered policies. Like us, they disapprove of the PFI/PPP money drain, so their manifesto proposed the SFT as a bond-issuing mechanism - "
With better value bonds we can release more money to invest in the frontline.
"
Then it turns out that bond issues aren't permitted in the Scotland Act, so it was back to the drawing board. The new version is a so-called
non-profit distribution
mechanism. Sounds reassuring, except that it means only that there's no ongoing profit-taking, and to "compensate" them, the private sector partners take a much larger fee. That leaves them with the exact same profit at our expense, but it's OK, because it's not "distributing" profits. All happy with that?
"
The NPD models are part of the family of public-private partnerships, but PPP is a generic family term for all such approaches
."
Same swill, different bottle, in other words.
This project will threaten the SNP in a number of ways. The cost will do anything but come down - there's a small prize for anyone who can find an example of postwar infrastructure which has come in under budget. This will mean the local authority cost cutting which is already getting Labour excited will have to become so savage that SNP councils start to fall out with their Ministers.
The unnecessary nature of the project, the economy with the truth about its purpose, and the shamelessly gargantuan amounts of misspent money are likely to attract the attention of the Auditor General for Scotland (pictured). His role
includes
 "
investigating whether public spending bodies achieve the best possible value for money and adhere to the highest standards of financial management.
" There'll be plenty for him to go on with this project, no doubt about it.
The disruption to road transport, ironically, is likely to cause a decade's worth of congestion north and south of the Firth on a scale never yet seen in Scotland. The tailbacks will spread like a bruise across the east coast, leaving the public begging for proper public transport, many of which could have been built for the same money but which never came up the SNP's priority list. A single party administration which freezes up about a third of the country is unlikely to win re-election in my book.
When it's over, if it does indeed get built, $500 a barrel for oil will make the bridge one massive monument to politicians' vanity and to the SNP's dependence on an outdated fossil fuel economy. I doubt it will ever be finished, though. Edinburgh's folly on Calton Hill will seem like pure prudence in comparison, when four vast and trunkless legs of steel stand in the river..
"
The trust is an extremely expensive empty vessel. Its cost of £23m is a scandalous waste of money when all that it now appears to be is a lobby arm
."
I'm more worried about the 140 to 180 times more money that's being wasted on the bridge project as a whole. Talk about missing the big picture. But then the other opposition parties haven't worked out that there's a political opportunity here. They'd rather hitch themselves to the SNP and be complicit in their failure, it seems, than oppose this nonsense on stilts and be ready to pick up the pieces.