As followers of Scottish politics know, there are tensions in East Lothian Labour between the MP, Anne Moffat, and the MSP, Iain Gray (aka the
LOLITSP
, and yes, if you google
LOLITSP
you get the Labour site). 
All of which makes this picture even more entertaining - thanks to Lindsay for the suggestion.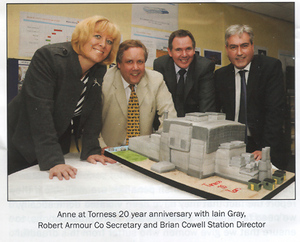 The pair of them are pictured being kept apart by what looks like a 20th birthday cake for Torness itself, made in its own likeness. The cake is presumably composed of real but sweetened nuclear waste and cooled with radioactive jam. After the photocall she's going to try and stuff him into the reactor core, but I think he'll fend her off with a cooling rod. 
Anyway, it's dying to be used as a caption competition, I reckon. Entries in the comments please, again with an unspecified prize for the best (Susan, I owe you a bottle for the last competition).
On a more serious note, Labour representatives for seats with nuclear power stations in them are often the most gung-ho for this dinosaur technology - think Brian Wilson, former MP for Hunterston, or Jack Cunningham, former MP for Sellafield. This may matter more when you're hoping to lead a country which is far more nuke-sceptical than your local patch.