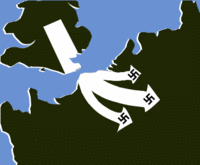 Now everyone else has hashed and rehashed the Euros, here's a wee review. At every level, the silver lining comes with a black cloud attached. (image from
b3ta
)
Scottish good news
: It was our best ever result in a Scotland-wide election, even above the famous 1989 surge, and we continue to move up as the Liberals move down again.
Scottish bad news
: The Westminster parties have never been less trusted, and we should have done better. Despite their total chaos, Labour won almost three times as many votes as us. 
UK good news
: Our friends down south saw the biggest increase in their support of any party, and came out on top across Brighton and Hove and also Norwich, the party's two top targets for the UK General.
UK bad news
: Seeing Nazis get elected, especially in the Northwest, where just 5,000 more Green votes would have seen the wonderful Peter Cranie returned to Europe instead of the vile Nick Griffin. The BNP's vote fell and they gained seats. More than a quarter of a million more people voted Green, but we got no more seats, narrowly missing out in a few regions.
European good news
: Greens were the big winners across the continent, with great results in France, Germany and elsewhere.
European bad news
: The far right in Hungary, Netherlands and elsewhere also did well. Nick Griffin will have plenty of friends, even if they're furriners.
Looking again at the Scottish result, it seems clear that the SNP have positioned themselves as anti-Westminster, despite some shocking abuses of the expenses scheme, and so were ideally placed to pick up the reform/protest votes here that we might otherwise have won.