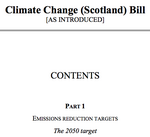 I actually enjoy reading legislation. Not the coolest hobby, but there we go.
I would have liked the Act to incorporate those extra three words, but I can see why the clerks might not have gone for it.
Last month I even delved into subordinate legislation, the Mogadon of the legislative sphere, but even then I returned with facts relevant to the real world.
This morning's task is the SNP's draft
Climate Change (Scotland) Bill
. I won't review it until I've read the whole thing, but if there are any policy wonks out there, get stuck into it.