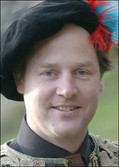 Founded as a centrist party in the late 1970s to "keep the bastards honest", the Aussie Democrats' last Parliamentary representative
quit
in October last year.
During the 1980s and 1990s they regularly held the balance of power, but their handling of one issue effectively killed them off: the
Goods and Services Tax
, an Aussie version of our old friend VAT.
Having campaigned against the introduction of a GST during the 1998 election, the Aussie Democrats then quickly swallowed their principles, worked with the rabidly right-wing John Howard to introduce it, and duly split.
So, a centrist party, founded relatively recently by merger, seeking the balance of power, does an unpopular compromise over a regressive sales tax rise they had committed to oppose, and ends up in the wilderness, superceded by Greens. An inspiring story.