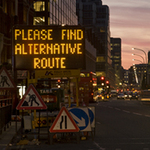 The Sunday Herald had
an advance
on today's
landmark report
from the Sustainable Development Commission (
press release
), which describes Ministers' attempts to rebuild the same failed economic system, built on growth at all costs, as "delusional" and "pathological". 
These are delusions and pathologies the SNP share with Westminster. The Nats describe their central purpose as "sustainable economic growth". Sustainable should mean "designed to work within our long-term ecological capacity", but here it's a proper weasel word, meaning something they would like to sustain.
In particular, they suffer from the delusion that they can engage on the biggest road-building and airport expansion programme Scotland has seen since the 1960s and still meet any kind of carbon emissions targets. New roads plus new public transport does not reduce emissions, and to think so displays a pathological misunderstanding of some pretty basic science and economics.
Although they're government-funded, the SDC have clearly had enough of being polite about abject government failures of this sort, both north and south of the border. In a quote that would fit well on the cover of a Green manifesto, Professor Jackson, the report's author, says:
"
Prosperity for the few founded on ecological destruction and persistent social injustice is no foundation for a civilised society
."
They're so on the same page as us that I even lifted their perfect image (above).
By coincidence, Holyrood
debated the economy
last Thursday. The patchy and limited understanding of sustainability across the chamber makes it pretty depressing fare - the
usual exceptions
apply. I fear we'll wait a long time before we have a Scottish Government which even understands the problems we face, let alone capable of pursuing constructive answers to them.