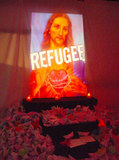 Today just had a fascinating interview on the topic of asylum. The discussion covered the benefits that would flow if society treated asylum seekers fairly, allowed them to work, and paid them benefits like anyone else if they can't get work. It also covered the advantages of giving them proper legal support at the start of their application. 
In short, the interviewee called for a complete turn-around of the UK's draconian and useless asylum system. He explained that Jesus and "the holy family" had been refugees in Egypt, and urged some Christian charity towards their fellow refugees. 
I missed the very start of it, so spent the whole interview thinking to myself "That sounds like IDS. Surely not?" over and over again. But indeed it was he,
promoting his report
.
It was radical stuff, and I didn't spot anything to disagree with in it, apart from not sharing his interest in Jesus. 
I was, however, reminded of IDS's 
2002 rant
against David Blunkett's liberal approach (!) to Sangatte, which was "
waving a white flag
", and a disgraceful and unsubstantiated
2003 rant
which explained that terrorists were presenting as asylum seekers. Today he wants asylum seekers to have the right to work -
in 2003
he wanted them all locked up.
Rarely will the Bible be quoted here, but today, given the holy family reference, I give you Luke 15:10 - "
Likewise, I say unto you, there is joy in the presence of the angels of God over one Tory that repenteth.
"