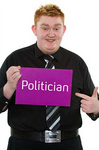 The latest example of Labour's efforts to help the SNP have an easy ride at Holyrood is the
apparent appointment
of John Loughton to their Constitutional Commission talking shop. Not because he's not a smart lad, nor for any other personal reasons.
It's simply an open goal for the Nat bloggers, whose A1 jokes quickly feed into SNP press releases. Wait for it: "How long before Wendy gets voted out of the Big Brother house?" etc... In fact, they might even use "Big Bother house".
Also, with all due respect, John's got what it takes to sit on this Commission but
George Reid hasn't
?