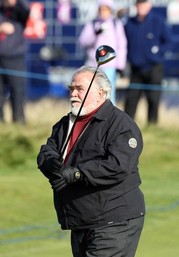 Note to The Donald: if your proposals can't even win over golf-obsessed American plumbing millionaires, just give up now.
"Only to the extent that Donald makes his interest known. I think there have been some setbacks recently and, on the one hand, that might make him more determined to see this through. On the other, he might just say there are other things I can do. He always keeps quite a number of irons in the fire.
"I've seen around the proposed site and part of the problem is that it is so lovely. Everyone gets upset when someone wants to change something so good and put all that concrete around it."