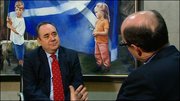 Twice this week we've found out more about the SNP's attitude to broadcasting. First, as the Scottish Government,
they paid STV £150,000 of taxpayers' money
to promote the Homecoming tartan-fest "for the benefit of the Government".
I have some sympathy for their concerns here, and the BBC's interpretations of balance are often pretty hard to justify. For instance,
"Adolf Brent"
had been an MEP for less than six months before getting his Question Time invite, but despite Green MSPs having been elected to Holyrood for more than ten years none of my colleagues have ever been asked on.
Furthermore, there's no question that these debates will skew matters in favour of the three largest Westminster parties, even if they aren't shown in Scotland, given that the papers and news reports will be full of it.
Nick "Anonymous" Clegg
will get a stature he doesn't deserve in particular.
But
the SNP response to the outcome of the debates debate
is unacceptable. They're taking a single decision and using it as the basis for threatening the licence fee. Forget saving 6 Music and the Asian Network: it looks now like the whole of public service broadcasting in Scotland wouldn't be safe in their hands.
It's petty, it's childish, it's unprincipled, and it's bad politics.Taken together, these two stories suggest an SNP leadership which supports the Berlusconi model: the broadcasters should serve the incumbents, not the public.