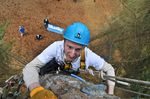 Regular readers will know that I am not a huge fan of the Liberals in Parliament. They are, to my mind, the only group
without a clear purpose
beyond their own re-election, and their campaigning tactics are
annoying
to say the least.
Similarly, Liberal Transport Ministers (including the current leader) rammed through and continue to support massively unsustainable and inappropriate roads schemes like the M74 and the Aberdeen Western Peripheral.
More recently, the party's
support for Trump
flew in the face of their claims on the environment, and the treatment of Martin Ford and the others by both the local and the national party over this issue
was profoundly troubling
.
And yet, and yet.
If you read Scotland's
top two Liberal bloggers
, Stephen and Caron, you find an awful lot more sense, and on most of the key issues of the day they take a far "greener" line than their party. Here's a few examples:
On Trump's Compulsory Purchase Orders: Another spot on post from
Stephen here
The most curious missing element, to my mind, is some divergence from their party on the road-building programme - I looked for any scepticism towards either the Aberdeen Western Peripheral or the unnecessary Extra Forth Bridge, but found none.
Even so, are you good people not barking up the wrong tree (pictured)? Are you really in the right party? I'm tempted to send you both a Green membership form, even though I know tribal loyalties are hard to shift. Added incentive, though: you'd both be in the same party as Martin Ford again.