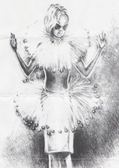 Winchester Lib Dem Councillor Adrian Hicks had a curious secret when he stood for election in 2006 and 2007. He felt that admitting he'd seen an alien dressed as a ballerina under the city's Guildhall clock might jeopardise his chances.
The alien was laughing and having a good time, and apparently was "human enough to get away with it."
As it happens, he lost anyway in 2006 before coming from third to win in 2007. Having served his area for two years now, he feels confident enough to come out, and he's trying to track her down, presumably so they can go to Venus together.
Grazia have some potentially interesting information for him - they worked out who made her dress. I agree that the likely explanation is terrestrial. He probably just doesn't know what kind of sunglasses are in fashion.
Still, we shouldn't laugh. He's in good company. The wife of the new Japanese Prime Minister believes she was abducted and taken to Venus. It could be worse. Councillor Hicks could have taken her to his leader.
(via glum councillors)