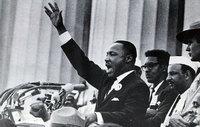 Peter Cranie tells the story today of
his recent experiences in the dreamland version of Iran
. I think it's time to start admitting how political obsession can work its way into dreams.
This is not cool. In fact, it's properly embarrassing. But here goes. In about 2001, I dreamt an entire Scottish Parliamentary by-election for the Angus constituency.
The SNP's candidate was
Shona Robison
, since 2003 the MSP for Dundee East and since 2007 the Minister for Public Health. The Tory challenger was
Ben Wallace
, now the MP for Lancaster and Wyre.
I don't think it's any coincidence that I'd worked with both of them through the cross-party group on refugees and asylum seekers, where Wallace defied his whip just by joining the group. His military experience meant he "knew what they've been through", as he put it, and she was the group's efficient convener.
Both were regional list MSPs for the Northeast at the time, so would also have been relatively plausible choices as candidates, and the Tories have indeed been in second place in the seat every time it's been contested. I don't remember anyone else getting a look-in, presumably because the squeeze effect works even in dreams. Nor was there any explanation about what had happened to Andrew Welsh, who still represents
Angus
at Holyrood.
When I say I dreamt it, I don't mean that I just dreamt there was a by-election. There was a hustings, copious newspaper coverage, Brian Taylor doing pieces to camera and vox pops, and a full by-election special. Sadly, I woke up before the declaration, in a reversal of the normal run of things, so I can't tell you who won.
I've got one more even more bizarre political dream to confess to as well. If enough other anoraks come out of the woodwork with shameful political dreams I'll do the followup here. It can't just be me and Peter.