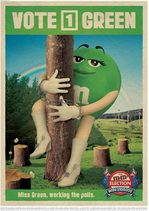 Over the weekend the SNP kindly provided me with the final breakdown of the Holyrood poll they gave to
Political Betting
.
Curiously, their release says
Others: 14%
, although the maths suggests 15%. A rounding issue, you say?
Well, the full numbers show us and the other "others" adding up to 16%. Make of that what you will.
Constituency
SNP: 36%
Labour: 28%
Tory: 16%
Liberal: 14%
Other: 7%
Regional
SNP: 30%
Labour: 26%
Tory: 17%
Liberal: 12%
Green: 7%
SSP: 4%
Solidarity: 1%
Other Other: 4%
Where we are, each percentage point means an awful lot - 6.7% in 2003 returned seven Green MSPs, but 4% last time took us down to 2 MSPs. Each additional percentage point on this poll would add one or sometimes two more Green MSPs. Run through Weber Shandwick's
helpful but clunky predictor
, the seats would look like this (usual "bit of fun" caveat applies):
SNP: 45 (-1)
Labour: 38 (-8)
Tory: 22 (+5)
Liberal: 15 (-1)
Green: 7 (+5)
SSP (!): 2 (+2)
Shades of 2003 in there, then: a bit more rainbow, both the main parties going down, plus the Tories breaking away into a clear third place.
There are plenty of other caveats, though. First, it looks a bit implausible. My instincts are normally wrong with these things, but I struggle to see the Nats going down in the current climate, while Labour's vote barely correlates with their competence and so remains more robust than you might expect.
Up to 22 is a lot for the Tories, who would need to take Eastwood (sorry Ken) and additional list seats in Central, Highland and Islands, Lothians and Northeast. And 2 SSP MSPs again? I just don't see it in 2011.
Next, the boundaries have changed, and the predictor works on the old ones. In some cases this works with those predictions.
Eastwood is being chopped up
, making Ken Macintosh's job all the harder and another Tory more likely, and the'yre also
helped in the Northeast
by the changes. Beyond that, it's too speculative for me. I'll let the inimitable
MacNumpty
, master of boundaries, have a go if he feels like it.
My second favourite game with these polls is Fantasy Coalitions. Assuming those numbers, here's how to get to 65.
1. SNP/Labour. Don't think we're ready for the Grand Coalition.
2. SNP/Tory. A narrow 67, but the only plausible two-party majority. Even less likely assuming a Cameron government at Westminster.
3. SNP/Liberal/Green. Honestly, if we were going to do this I think we'd have done it in 07.
4. Labour/Tory/Liberal. The Younionisht Conshpirashy writ large!
5. Labour/Tory/Green. If the CDU/CSU, FDP, Green coalition in Germany had happened, it would have been the
Jamaican coalition
, and a total nightmare besides. This would be a Holyrood
Gambian coalition
, and equally unpalatable.
My money would be on a continued SNP minority government with those numbers, though, with the Tories perhaps in some kind of confidence and supply arrangement.