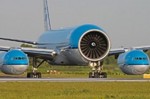 UK Ministers' Climate Change Committee, also the Scottish Government's advisors, have today published some maths which should make both lots of Ministers think again.
Both are committed to 80% emissions reductions by 2050, yet both support unsustainable increases in aviation. Both were told today that all other sectors must make 90% reductions if aviation is to be allowed to grow.
Apologists for limitless flying (typically former "lefties" of
one sort
or
another
) always say it's just 1% of UK emissions, even as they lobby for massive increases. The Committee says that, at this rate it is likely to become 15-20% of all emissions by 2050.
These same people also claim that saving the world is an attack on the poor, as if budget airlines are actually full of folk on the breadline. One study showed that the richest 24% of the population took 40% of budget flights, while the poorest 32% took less than 8% (
nef
, pdf, p.5).
The first thing that needs to happen is that both UK and Scottish Governments must abandon their plans for airport expansion. Heathrow's Runway 3 is the most totemic example, but the
second National Planning Framework
, nodded through by dozy opposition parties here, includes expansion plans for Edinburgh, Glasgow, Prestwick and Aberdeen airports. It also mentions scope to expand the airports in Dundee and Inverness.
Check out page 109 of that NPF2 document. At least it admits that there'll be a carbon impact. Normally when Scottish Ministers propose something
spectacularly unsustainable
, they jig the figures to claim it'll reduce emissions.
I'd settle for some honesty here, though, from Ministers. If they said "look, we don't care about emissions and climate change and we're going to continue flying", that'd be fine: we could contest the issue directly with them. Right now green-minded members of the public hear Ministers saying they care and they may assume they mean it. It's the raging, gargantuan hypocrisy in Victoria Quay and Whitehall that bugs me most.