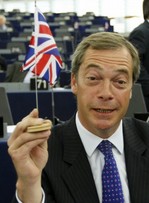 The soon-to-be ex-leader of UKIP
announced
last week that he would stand against Speaker Bercow in Buckingham, and the odds on him have been
shortening
ever since.
Farage's party may be filled with
corrupt
homophobic
anti-foreigner
climate change deniers
in
clubhouse blazers
, but this is a tactical master-stroke.
Although UKIP only got 3% last time in the seat, this will effectively be a one-on-one cage match, no Labour, no Liberals, and only a disowned Tory to take on.
I think Farage will win, too, because Bercow's base is now the
Parliamentary Labour Party
, who don't have much influence in Buckingham. Here's who that'll be bad for.
1. The Tories. They don't realise it yet, but UKIP are to them as we are to the Liberals - why have the diet Tory version when you can have the full-fat UKIP? As soon as they win a seat at Westminster, they become much more credible and they start eating the Tories' lunch. LibCon has
a series of links
which illustrates how their hatred for Bercow has blinded them to the tactical cost of losing this seat to Farage.
2. Labour. They thought they'd installed a nice sympathetic Speaker as part of their legacy. Now it looks like Opposition could be a lot more uncomfortable. The consolation here is longer term - a divided right works in their favour: could this push against their most recent
briefings in favour of AV
?
3. The Liberals. It's a lesser problem for them, not least because they won't lose many votes to UKIP outside the south west of England. However, an interesting small party story like this reduces the benefit to them of the broadcasters' substantial pro-Liberal bias during election time.
4. Greens. See the Liberals - plus until now the media had been convinced that the only party to make the Westminster breakthrough next time would be us, via Caroline Lucas's candidacy in Brighton Pavilion. While our colleagues there more than doubled the Green vote to 22% in 2005, that's still a tough three-way fight with Labour and the Tories.
5. The BNP. Here's some actual silver lining. They fish in the same extraordinarily crowded right-wing pool down south, and more UKIP may mean less of your actual fash. However, having someone as generally smooth as Farage making BNP-lite talking points is probably bad news even here in the long run.
Oh, and John Bercow himself. Spare a thought for him. He's just got through a bruising election to become Speaker, and one of the perks of the job is normally not having to fight elections (yes, I know the Nats fought Glasgow North East). Now he's got a tough job to hold his seat. I'm not sure Buckingham folks will think it's clearly the best thing for them to have the Speaker represent them.
If it's any consolation, though, he's already sure not to be the shortest-serving Speaker in history. John Cheyne served just eight days,
apparently
, in 1399.