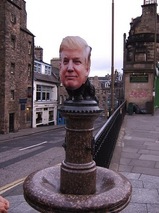 The Menie Liberation Front have pulled off
the most delicious anti-Trump stunt today
- putting masks of the great man over the faces of statues across Scotland.
Photos of some of their locations are
here
. The Greyfriars Bobby one is outstanding, but shouldn't that one have an Alex Salmond mask on it? The wee dog is famously meant to have
sat on his master's grave
for fourteen years. When Trump's plan for Menie fails, as
so many of his others
have done, the First Minister will surely be found grieving at its graveside.
The
crucial vote
on this comes next week. Will Aberdeenshire Councillors back the right of residents to stay in their own homes, or will they back Trump's latest clearances? Watch this space.