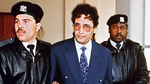 The elder of the Miliband brothers gave an interview to Today this morning (
iPlayer
, from about 1:50) about the Megrahi affair, and his line was very different from that used by Labour in the Scottish Parliament. If they'd been listening, you would probably have heard their palms slapping their foreheads.
The Foreign Secretary has bigger worries than this morning's debate at Holyrood - notably, can we stay friends with the Americans and the Libyans and fend off Dave Cameron? The best way to do that is to be resolute that this was a decision for the Scottish Government, UK Ministers have clearly decided. In doing so, though, he went quite a bit further than that:
"There was no way for us to control Megrahi's fate, we had to live with the decision but we didn't have to make the decision. The decision to make was for the Scottish Government, and they have done so in a way which we respect, but which is absolutely according to the constitution of this country."
Subsequently, he went on to say:
"Was the Scottish administration doing its constitutional duty in the right way? Point one: yes. Secondly, were they interfered with by the British Government in any way? No. Thirdly, was there a public or private dissonance between what we were saying about the administration of justice in Britain to the Libyans or to the Americans or to the Scots? No. And that is very very important."
Labour's view here in Holyrood is radically opposed, not least because, unlike UK Ministers, they care only about beating the Nats in 2011. They only agree that it was a decision for Scottish Ministers. I give you the first line of Richard Baker's repetitive and relentlessly critical amendment to be debated today. That Parliament...
"believes that the process of making this crucial decision was mishandled by the Cabinet Secretary for Justice"
It's not even that the left hand doesn't know what the right hand's doing. It's like neither hand even cares that the other one exists. Does Labour actually speak to itself any more?