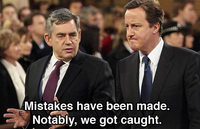 Gordon Brown apologised on behalf of
all parties
for the massive abuse of expenses carried out at Westminster (so far by Labour, Tory, SNP & Sinn Fein: the Liberals may yet be squeaky clean). The damned cheek of the man.
Just to be absolutely clear, Greens have no snouts in this particular trough. No bathplugs, no mole removals, no porn, no widescreen TVs, no flipping, no men to screw in one's lightbulbs. 
Admittedly, we've got no MPs yet, but that's no reason for Brown to tar us with his particularly dirty bog-brush. No worries, though: I think the public know where the bad smell's coming from.