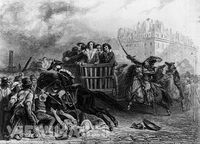 The data on MPs' expenses reportedly
cost the Telegraph £150,000
. They today report that those Members found to be at it have
already agreed to pay back more than £100,000
 of taxpayers' money. There's surely more to come, not least from
Elliott Morley
, who's on the shoogliest of pegs. 
Once this episode is over, everyone who deserves it should get value for money, and those who deserve censure should get their fair share, even if we don't eventually see actual tumbrils. 
Taxpayers will get a substantial refund, a gargantuan round of schadenfreude, and should see a few rogues chucked out of the Commons. As it becomes harder for Honourable Members to do the
Maltese breast-stroke
, we should all see long term savings in this area.
The Telegraph, for their part, have had a
substantial boost to their circulation and profile
 which will justify their shareholders' investment in this data. Their public interest defence also
seems impeccable
, given that the worst "flippers" (Morley, Blears, George, Darling etc) would have got away with it if the information had been redacted.