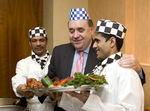 Few people like
a good curry
more than our nation's glorious leader, and it's therefore no surprise that dining receipts should be the focus of the Telegraph's
Salmond exposé
. 
Now, I understand the idea of claiming back expenses when your work sends you away somewhere, and I'm sure most people accept that. 
However, few will regard it as acceptable to claim back £400 a month (including during two months of Westminster recess) for meals out and other food costs. No other regular line of work has perks like that. In the real world, people pay for their dinner from their salary, and politicians should be no different. 
His quote in the story, disappointingly, is the same tired and indefensible line Labour Ministers have been using all week:
"
The claims for food allowances were entirely in accordance with the Green Book rules at the time
."
Whatever the rules say, though, if you claim under them you are saying you believe those claims are acceptable ways to use taxpayers' money. If the rules said you could fly daily to the Taj Mahal itself at our expense, would you do it, First Minister? You've been
caught taking the Scottish Government car to your favourite curryhouse
. Did you then submit a claim for dinner to the Westminster authorities?