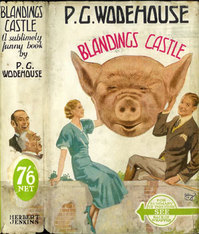 The next round of
expenses disgracefulness
 has just gone up. It's Tories and their stately homes. Call it the Bertie Wooster round. Castle maintenance, moat cleaning, private swimming pool maintenance and heating, chandelier-hanging, and housekeepers. Oh, and the housekeeper's car.
It all reminds me of the bad blood between Heseltine and Alan Clark, when Clark accused Heseltine of buying his own furniture (i.e. being nouveau), and Heseltine, as I remember it, riposted that Clark had bought his own castle.
I wonder whether we paid for any of that. In fact, what is the total post-war investment by taxpayers into MPs' stately homes? Do we own them yet?