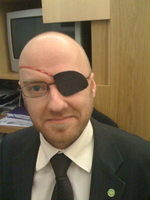 Some people partied yesterday, but today is not only Patrick's 36th birthday but also the day his bill on hate crimes was up for its Stage One debate in the chamber. 
Despite some hostile noises at an earlier stage, it was backed unanimously and now seems certain to pass into law. A good birthday present indeed.
The picture to the left shows Patrick preparing for a speech to a room full of intellectual property specialists, incidentally.