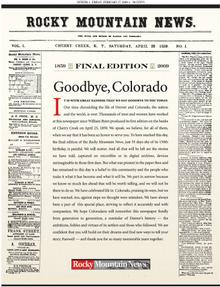 When Rupert Murdoch proposed charging for access to News International websites, there were predictions that a stampede of other titles would join in.
Obviously the smart thing to do for anyone considering taking this approach is to see what it does to Rupert's bottom line, but many are going beyond waiting and seeing.
The Telegraph, for instance, have described it as "
a gift to the competition
", and if you can think of a more direct competitor to the Times than the Telegraph, do tell.
The Guardian's heading in the opposite direction:
they just took down the last paywall
, although that was only around the crossword. A members' club, something they are considering, is not the same beast. The question is this: can you read the paper online or not?
There are
somewhat more plausible
moves to charge afoot in the States, but the bottom line remains that it'd be a cartel, and there'll be more opportunities in undermining a cartel than there are in taking part.
Imagine all the UK broadsheets join a paywall conglomerate apart from the Guardian or the Telegraph. Which paper will you read online? Which familiar commentators will you choose when you're buying a paper copy for the train? Who gets blogged about? Which proprietor has influence, which remember is what most people own newspapers for?
If you really want to know what's happening, the best guide is the Kübler-Ross model, which set out the five stages of grief. I shall lazily point you to the
Wikipedia page
. Here are the stages, as they apply to the newspaper industry:
4. Depression - "This industry's going to die. What's the point?" (when the Murdoch experiment fails, probably within a year from when it's brought in)
5. Acceptance - "I can't fight it, I may as well prepare for it."
I'm not sure what the model is for the last phase, and I desperately hope it still includes as much good journalism and commentary as possible. But I'm convinced that
Clay Shirky
's more likely right about this than
Tom Harris
or the more thoughtful
Doctor Vee
.
Previously here: