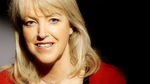 For my money, Lesley Riddoch has long been about the best thing on Scottish radio, and if GMS were ever to go in the direction of the Today Programme, she'd be an obvious choice to present it. When her eponymous Show
ended in December 2004
, there was an
outcry
, but then she was back on air with
Riddoch Questions
, made by her own production company.
Now
that's ending too
, with
this week's programme
to be the last. As if that wasn't reason enough to tune in one more time (as usual, Radio Scotland, Friday at 1.15pm), the panel will be discussing how Scotland can meet its new 42% target for carbon reductions, and Patrick's likely to be on the show. Last week's show is
here
until then.
I'm sure the BBC's top brass have their
reasons
for ending it, but I still object. Her various programmes have been best in class for years now, and this move will leave a dirty great hole in their schedule. A rethink here would be very welcome.