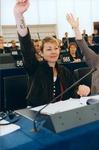 Earlier this week, the European Parliament
backed
a carbon limit for power generation in the EU, setting a figure of 500 grams per kilowatt hour. As
the Guardian reports
, tougher limits were proposed, but were voted down. 
Even at this level, it's the (eventual) death of un-captured coal power in Europe, and about time too.
So what did the British MEPs do? The Greens did the right thing throughout, in case you're wondering: the pic to the left is Caroline Lucas casting voting on this actual issue. Exciting or what?
The first vote was on 350g/kwh, and the three Tories voted against that, as did the Labour MEPs. The only UK Liberal voted the right way, as did the Plaid rep and also Sinn Fein. The good guys lost 24-37 this time.
Next up, 400g/kwh. Again, the Tories and Labour voted against. This one was closer, falling by a single vote. In other words, if the Committee had one more Green (or even another Liberal, Plaid or Sinn Fein member) and one fewer Tory or Labour MEP we'd have got a tougher law. So too we would have if either group had done the right thing.
All the UK MEPs then 
voted
 with the Greens on the 500g motion, and that went through overwhelmingly.
The most tiresome part of this is that Cameron
pledged himself
in June this year to:
"
..follow the Californian model, and implement an Emissions Performance Standard. This would mean the carbon emissions rate of all electricity generated in our country cannot be any higher than that generated in a modern gas plant. Such a standard would mean that a new generation of unabated coal power plants could not be built in this country.
"
A combined cycle gas turbine power station emits just 320g/kwh (
2003 figures
given in evidence to the House of Commons). Sure,
his speech
 cited the 500g/kwh figure, but he must know that's seriously out of date. The figure above is five years old, after all, and I have no doubt technology has moved on, bringing the current figure down even further. 
It's another bit of evidence about the limits of the Tories' new-found interest in the environment, and it confirms the equal uselessness of Labour on the same issue. Having said that, a limit is better than no limit, and to that extent I'm pleased. 
The voting numbers are
here
, in case anyone wants to check my rollcall (thanks to
Mark Johnson
for those). The Committee's affiliations are listed
here
 for cross-reference purposes.