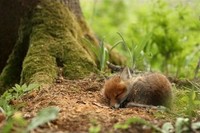 It's too late for policy arguments, so here's something more shallow. You'll be in good company, including 
Alexei Sayle
,
Mark Steel
,
Joanna Lumley
,
Jonathan Freedland
,
Mark Thomas
,
George Monbiot
 and 
Peter Tatchell
(who's a member), not to mention local blogger
Malc in the Burgh
. 
Even better, drag someone else out to vote too, ring your family and make sure they vote, all that good stuff. 
One vote counts for three or four with a turnout this low: think how much difference a handful could make.
Just to encourage you, here's a cute picture of a baby fox.