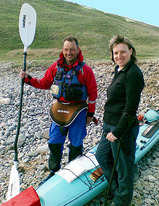 Debra Storr, erstwhile Lib Dem Councillor, enthusiastic kayaker, and
staunch defender of local residents
against rapacious developers,
has put in her form to join the Greens
.
Her website
has gone very green as well, but, like Martin Ford, she'll stay as part of the Democratic Independent Group on Aberdeenshire Council. She says:
"I urge others disgusted at the failure of political leadership amongst current elected representatives in the north-east to join me in the Scottish Green Party as a first step to giving the north-east a better set of representatives for the future."
It's great - that will take us to ten Councillors who are also Greens. I've really enjoyed being Martin's colleague, and I'm looking forward to working with Debra too.
I wonder if the bookies are offering odds on a Green MSP being returned again for the North East in 2011?