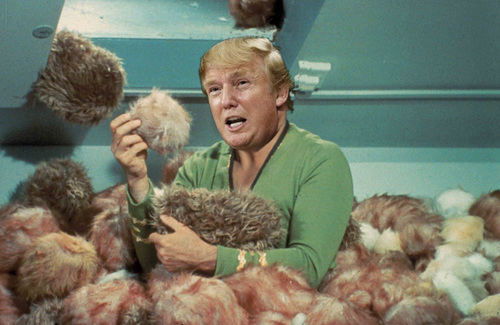 On Wednesday night Council sources had
briefed reputable media outlets
that Councillor Ford's motion against compulsory purchase was unacceptable, but that another anti- CPO amendment would pass. By yesterday morning they were back in line with the
tribble-haired
Mr Trump (pictured with friends).
It was a grim day for the families, who had argued so passionately for certainty from their elected representatives. Many red-shirted Councillors made craven comments about never voting for compulsory purchase, then failed to vote against. This did not go down well, and I suspect they won't get beamed back into the Council chambers come 2012.
The response from the Trump Organisation would have made Spock weep, too. This was a
"logical"
decision. Live long and prosper, it seems, so long as it's not in your own homes.