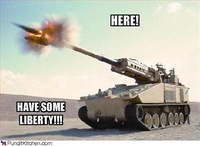 The BBC had a misleadingly promising headline today - "
UK troops begin Iraqi withdrawal
". I assumed they were handing over to local people, but no, they're handing over to the Americans. 
Glad as I am to see British involvement diminishing at last, will this actually feel any different to those occupied in Southern Iraq? Reuters suggest the Americans may be even less popular because of their "
fearsome, and sometimes trigger-happy, reputation
".