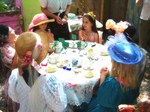 Today's G20 has been built up by the Prime Minister into the most important event of the decade, the point at which the world's most important political leaders come together and fix the world economy.
It's starting to look like a sequel to the 2005 G8 summit, where we were told that debt across the developing world would be lifted and a new era of international equity would dawn. 
These big events get Gordon as giddy as a three-year-old about to host a really big tea party. He's the centre of attention, and that weird half-smile plays over his lips as he thinks about how important he'll look. He'll have the big plastic teapot in his hand, and he'll be able to say who gets more trifle and who doesn't. It's brilliant, even if some
tantrums
look inevitable from the
usual suspects
.
At the end, all his guests will stand up and say what a wonderful time they had, whether it's true or not, and how they're going to be good boys and girls over the coming year. You can call it a communique, but in real life it's just a longer press release, devoid of any actual commitments, leaving nothing but disappointment.