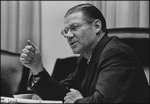 It's odd, feeling a pang to hear of
Robert McNamara's death
. As US Defence Secretary during the 1960s he presided over some of America's worst international crimes, in Vietnam, Cambodia and Laos, and in WWII he had a hand in the firebombing of Japan, also surely a war crime.
Nevertheless, it's hard to see Errol Morris's extraordinary documentary The Fog of War and not have a more nuanced view on the man.
It contains a powerful sequence where he shakes the hand of a former North Vietnamese Army general, apparently achieving a moment of reconciliation. In the interviews which are the basis for the film, McNamara comes across as thoughtful and conflicted, if cold in places.
It's a great flick for anyone interested in the period, and you are now instructed to watch it. A low-res version is on
Google Video
, or it's less than
£6 on Amazon
.