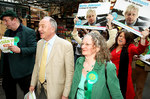 I'd paraphrase, I'd give my comments, but it'd be a waste.
Jenny Jones (left, with Ken) gets it spot on in the Guardian
.
"It's disappointing to see someone of Leo Hickman's stature reinforcing old stereotypes. His assertion that the Greens are a "one-issue" party is plainly wrong and his reasoning - that "the clue's in the name" - doesn't entirely stack up.
"Let's think about this for a moment. Suppose there was a party called... oh, I don't know, let's say Labour. By Leo Hickman's reasoning we would all assume it was a one-issue party that dealt only with employment issues. Its flagship policy would be Jobcentre Plus."