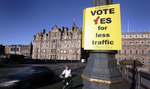 Just as in Edinburgh, the Trotskyist fractions are opposing congestion charging in Manchester. The charge proposals won't just cut congestion: they also mean up to 
£3bn of investment
in
public transport
, with bus improvements, Oyster-style integrated transport cards, improvements to cycling, rail and the Metrolink, and more park and ride. There's a
new discount
for the low-paid travelling public, too.
In Edinburgh, the SSP
opposed
the congestion charge out of sheer opportunism (as per the Liberal model), claiming that it would have hurt the poorest most. The poorest don't have cars, typically, but they certainly use public transport. This seemed to pass the comrades by.
Similarly, Respect are
opposing
the Manchester plan, strangely, in order to promote public transport. They are aggrieved too that private contractors will (shock horror) be paid to construct new public sector infrastructure. Shouldn't the Stakhanovite People's Construction Department be set to work instead? Also, they say 70p is too much for children to pay. And that local people can't afford the charge as fuel prices go up - can you hear me smacking my head with my palm?
Finally, why can't everything be free, they say, an argument which reminds me of the
old SSP policy
of "we'll run the Scottish Government at a loss and it'll all just be fine." Here's why. We need better transport services, more efficient services running for more of the day, on more routes and all the rest. This has to be paid for, and simply removing fares for everyone would make already-choked public transport almost unusable and the expansions harder to fund (there's only so many times we can spend the money that could be saved by scrapping nuclear weapons and ID cards etc).
Truly these people are idiots, and they are not worthy of your respect. Feel free to vote in their "
poll
", though.