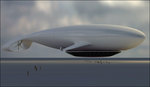 Some people ask me if they're allowed to go on flights, because I work for the Greens. I think it's weird, but it does happen. 
Other people ask what will happen when oil runs out: will we all be stuck in northwestern Europe, eating only potatoes and drinking only whisky? What happens when cars become simply too expensive to run?
Whether you're more worried by climate change or by peak oil, these are all good questions, apart from the first one. You can heat your home 100% sustainably if you put the effort in. The power can stay on, if we make a proper commitment to renewables. But transport is harder.
So here's the good news. Flying will not only still be possible, if we get back into airship technologies, but it could also be more fun and less like being exported in a veal crate. Admittedly, this
same prediction
has been made for decades and hasn't proved to be true yet. My father once rang me up (I inherited my airship obsession) to tell me that regular airship flights between Cape Town and New York - did I want to go? Of course I did, but that was just another Branson project that never happened.
The downside with the technology for today's short attention span, limited-holiday-allowance lifestyle is that it'll take longer to get from A to B. In the 1930s it took 75 hours to get from Rio to Frankfurt - at even that speed Marseilles is just 11 hours from Edinburgh, and Melbourne just five days away. Personally, I'm fine with that. The world is still accessible, it's just takes a bit more commitment to get to. The views will be better, you won't need to be buckled in, and there'll be space for a
cocktail bar
, a games room and the like. 
The reputation of the airship is low, for two reasons. First, the
Nazis used them
, and that's never good PR. They also invented the Volkswagen Beetle, though, and the hippies still bought those. Secondly, the
Hindenburg blew up
. While a lot more than 35 people tend to die when aeroplanes come down, leaving aside the
almost 3,000
people who die on Britain's roads each year, that hasn't stopped the negative associations.
The secret and the problem are both in the buoyancy. The Germans were denied helium by the Americans during the 1930s, which was understandable. Modern semi-rigids use helium, just as the Germans did before the ban, and helium is both perfectly inert and only 8% less lifty (technical term) than hydrogen, a price well worth paying to avoid dying in a massive fireball. One thing's for sure, even if it still used hydrogen in the envelope and had a cigar smoking room on board it'd feel more safe than the "
flying bomb
" proposed earlier this year.
The buoyancy is also what makes airships energy-efficient - you're not generating lift by endlessly forcing air over a plane, and the engines are just used for altitude alterations and propulsion. I've seen figures which suggest that an airship can deliver the same payload over the same distance as a 747 for one seventh the energy, assuming we stick with fossil fuels.
Another way
of looking at that is that they can cruise for a week on the fuel a 747 uses to taxi to the end of the runway, enough to get you to Tokyo and back.
Other plans include augmenting traditional sources of fuel with
solar power
during the day - there's obviously a large surface area for that - or even going
100% electric
. Either way, it's a lot closer to sustainability than a plane.
Another substantial advantage is the ability to put people and goods down almost anywhere, reducing the need for those awkward runways and enabling even the most remote parts of the world to trade, or to receive aid or even tourists. They're just as stable as aeroplanes in extreme weather, and are less likely to be hampered by ice formation.
Predictions of the rebirth of the airship have been endless, and so far it's all come to nothing. However, the next time we get an oil price spike (I foolishly predict November next year) it'll start to look more attractive. I'll be at the bar, looking at the view.