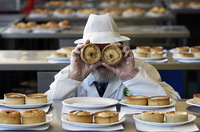 When both the Scottish and the UK climate change legislation proposals first appeared, aviation and shipping were mysteriously absent. The Nats have since
pledged
to remedy this oversight, incidentally.
Such an exemption is clearly absurd, and I'm pretty sure that we came up with the killer line on it (specifically either Robin or Patrick - I can't remember who thought of it first).
Either way, Robin
told
the Chamber on September 3rd that "
having a climate change bill with an exemption for air transport is a bit like having a diet plan with an exemption for pies, beans, chips and black puddings
". It even inspired a
charity challenge
, sadly not risen to by the First Minister.
By October 16th, the Liberals had gotten in on the act. In the Commons, Steve Webb said "
However, Mr Miliband appears to think he can simply ignore the hugely polluting aviation and shipping industries. It's like telling everyone you're going on a calorie-controlled diet but not counting cream cakes.
" Amusingly, this was
billed
on the party's blog as his "
cream cake triumph
". (thanks to Adopted Domain for the 
spot
)
Today Friends of the Earth have in turn
recycled it
, in a new and more potent form, as "
a drink-driving law that doesn't count whisky
".
It's not clear where the Tories are on this, although the last link there implies they're also on side with the forces of good. If so, I await their press release comparing the bill as it stands to "
a detox plan with an exemption for crack.
"