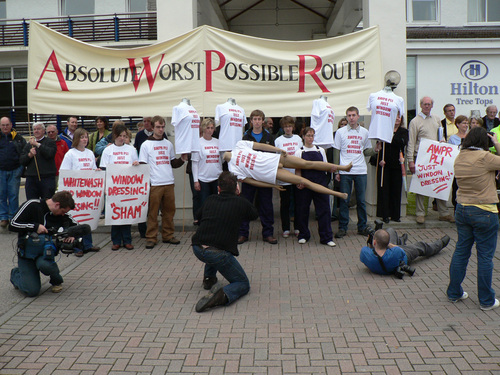 Yesterday I had a lovely day out in Aberdeen with Greens and other activists, joining Aberdeenshire locals protesting outside the Inquiry into the Aberdeen Western Peripheral Route.
There's little more rewarding in politics than supporting local community campaigners, although this campaign will be a hard one to win when the First Minister is prepared to bend the truth in the name of forcing a road through. Our protest pointed out that this is an Inquiry where the decision has been taken to build the road no matter what, where all discussion has been prevented about the AWPR's effectiveness on traffic reduction, its economic, social and environmental impact, and about the alternatives available.
Salmond then went on the radio urging everyone to take part, as people always find this kind of Inquiry worthwhile, neglecting to address the fact that no-one I've spoken to has ever seen an Inquiry where the answer was known in advance. It's pure window-dressing (see above).
After our protest, Road Sense's QC pointed out a flaw in the Inquiry under European law. Because of the protected nature of at least one of the environments under threat, the Inquiry has to look at all the options, including not building the road. The Reporter will rule on this today, but the road's supporters should be urging him to back this line of argument, for two reasons.
First, if your road can meet the usual tests, the same ones the M74 failed, then make the case in public. Second, if the Inquiry continues on the current path then it will be obvious how any final decision by Ministers can be judicially reviewed. Do you really want that?
Hopefully I'll be able to keep updates coming here from my friends on the inside. P&J coverage is
here
 and 
here
, along with an absurd editorial
here
. Scotsman
here
.
Thanks to all who turned out at such an ungodly hour, including Ben, Daniel, Lindsay, Sarah, Sarah and Tom, who also posted on this, as follows. Love the title.
Update
: the Reporter's
decision is out
. They ignored the legal concerns. No surprise there.