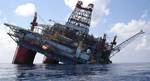 Another round of 1970s documents
about oil and nationalism, another round of nationalist frothing about oil and the conniving English. The BBC
claims
that "
between 25 and 30 billion barrels could still be recovered over the next 40 years
", which is presumably what the SNP press release claimed. 
To be absolutely clear again, North Sea oil
peaked in 1999
. There is still oil out there, obviously, but it's becoming harder and more expensive to access. Chris Skrebowski of
the Energy Institute
set out
the situation we find ourselves in in May last year:
"
Alex Salmond's predictions are simply wrong. Even with optimistic assumptions about future North Sea oil production, and even if Scotland was allocated all of that production, an independent Scotland would be likely to be a net importer of oil by 2015 or 2016. By that stage, given the global decline in output which has already begun, we will have to buy oil on the open market for two or three times the current price. It's completely fraudulent to suggest that Scotland can just live off its oil wealth now.
"
An even more pessimistic prognosis was provided by
Keith Kohl of Energy & Capital
in 2007, who observed that "
the expected rate of decline could virtually eliminate oil production in the North Sea over the next five years!
", just after the next Scottish election.
The argument about whose oil it is, or whose oil it was, is therefore irrelevant as well as dull. Whether we become independent or not, our future lies in those
abundant renewables
Scotland has been blessed with. The same would have been true by now even if devolution had been established in the 1970s.
Every minute the SNP spend attacking Whitehall over oil is a waste of time that could be spent making ourselves independent from oil, as is every minute the Labour Party spends defending itself. Get over it and get on with the job.