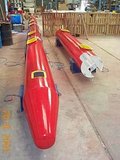 I genuinely received an email with this as a subject line. Seriously, anyone sending that doesn't understand how spam filters work. Is it ironic? Is it coincidence? Who knows. I'm sure it's real, though: it came to me to encourage me to attend a Wind Energy Performance Optimisation Summit.
Once the spammers' obsession with Viagra and the like subsides, perhaps they will start promoting renewables in the same way. I particularly look forward to invitations to
Significantly Lengthen Your Wave Power Device
(pictured).