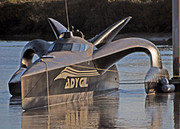 Like many, I find the jar-rattlers and direct-debit-form-wranglers intensely irksome. It's not just that I'm tight: I've given some serious thought about which charities to support, and I already make regular payments to each.
It occurred to me today to talk about the organisations I support in my own tiny way, and to put up some donation links.
In reverse alphabetical order..
Shelter Scotland
. The largest organisation I give to, slightly going against my rule of thumb. For me, homelessness is Scotland's most glaring social problem, and Shelter are practical and effective. If you want to see how pragmatic campaigning works, check out
this page
.
Donate
.
Sea Shepherd
. A more militant offshoot of Greenpeace, Sea Shepherd specialise in anti-whaling campaigns, and some of my money just went to buy the insanely impressive new boat shown above. Story
here
. The relationship between them and Greenpeace
ain't great
, but I think they both do great work. I give to Sea Shepherd both because they're smaller, and because you know exactly what your money goes on - directly saving actual whales.
Donate
.
Scottish Green Party
. You won't be surprised to know that I donate to the party, and as a member of the party's Operations Committee I can assure you a little goes a long way. If you find yourself agreeing with any of my ramblings, please donate
here
.