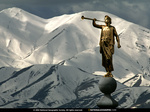 Or indeed, whose marriages would
Moroni
(pictured left, blowing a trumpet) oppose? This year's successful California campaign to ban gay marriage apparently received $20m from Mormon organisations, half the total campaign fund. (
NYT link
, bypass registration
here
). 
The NYT notes "
the extraordinary role Mormons played in helping to pass
[Proposition 8]
 with money, institutional support and dedicated volunteers
."
These volunteers met away from the church to avoid arousing suspicion, and were whipped up with a claim that "
the formation of families is central to the Creator's plan
". So
same-sex couples with children
aren't families, but
polygamous groups
are?
Update
: on a related topic, 
this
is my favourite comment so far on this blog. It was the Scottish isles reference which made me snort milk out of my nose.