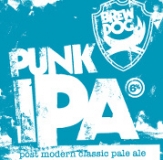 The P&J
reports a threat
to one of Scotland's finest brewers, perhaps even the best we have - BrewDog, based in Fraserburgh. 
The Portman Group, it seems, have ants in their pants about their labels, especially for three beers called
Punk IPA
,
Hop Rocker
and
Rip Tide
.
These are great beers - the Punk IPA in particular is worthy competition for the best international brews like Bohemia, Krušovice or Sierra Nevada - and the company is a true Scottish success story.
Portman are bothered about the marketing shtick on the side, which frankly is no more intimidating than the lion on a Belhaven label. The fact that the drinks industry itself has decided to attack a small and inventive brewer is a disgrace - is it possible that some of our "
cooking lager
" manufacturers felt threatened by the
success
of something that actually tastes nice? 
I just hope they don't notice that BrewDog do a beer called
Speedball
, named after the dodgy drug combo which did for
John Belushi
. Nothing to see here..